Domaine de la Touraize - ARBOIS AOP (Jura)
Chardonnay "En Flandre"
2016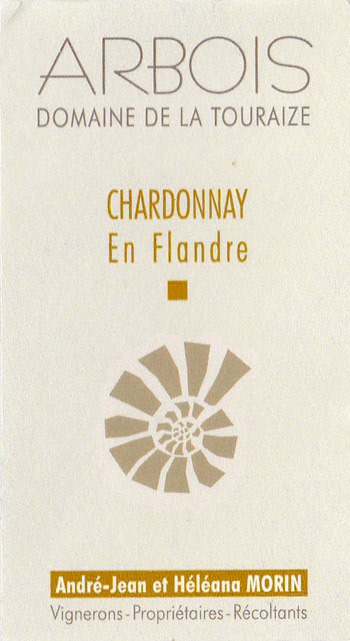 Grape variety :
Chardonnay
Designation :
Arbois PDO
Terroir :
Calcareous-clay. Exposure: Northeast. Altitude 310 m.
Acreage :
1 ha - plot selection "En Flandre" - age of vines: 10 years
Harvest :
Manual
Yield :
50 hl / ha.
Farming method :
Winter and spring : Cane pruning (Guyot). Arch trained. Addition of organic matter at the end of winter. Spring and summer : Disbudding then tying-up. The vines are only treated with copper and sulphur, no pesticides. The soil between the rows and "under the rows" is ploughed several times a year. No chemical weeding. The grapes are hand-picked and put in 300 kg containers.
Vinification :
Pneumatic pressing of whole bunches. Static gravity settling. Spontaneous alcoholic fermentation achieved with indigenous yeast. Alcoholic fermentation, malolactic fermentation in barrels (350 litres). No inputs.
Aging :
12 months on fine lees in barrels (350 litres). Topping up weekly throughout aging.
Bottling :
After light plate filtration (K 200) on the morning of 19/07/2017, "fruit day", clear day with no wind. Cork stopper 45/24 Ma Silva. Total SO2 = 33 mg/l.
Serving temperature :
Between 10°C and 13°C
Tasting :
Fresh, fruity overtones on the nose. Lively in the mouth with citrus overtones and more mineral on the finish.
Serving suggestions :
Starters, fish, shellfish, or white meat.