Domaine de la Touraize - ARBOIS AOP (Jura)
Pinot noir « Sur la côte »
2017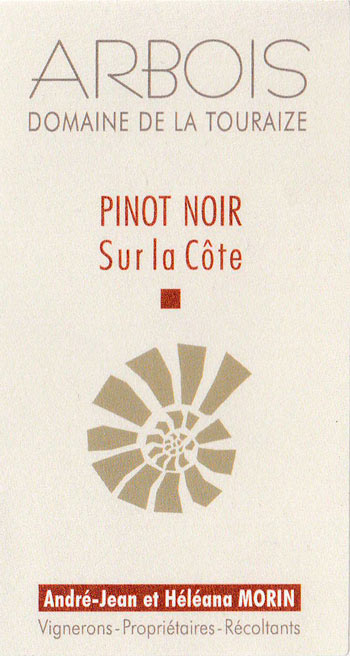 Grape variety :
Pinot noir
Designation :
Arbois PDO
Terroir :
Grey marl with silty-clay at the bottom of the plot.
Acreage :
1ha - plot selection "Sur la côte" - age of the vines: 20 and 40 years
Exposure: southeast, gentle slope.
Harvest :
Manual.
Yield :
45 hl/ha
Farming method :
Winter and spring : Cane pruning (Guyot). Arch trained. Addition of organic matter at the end of winter. Spring and summer : Disbudding then tying-up. The vines are only treated with copper and sulphur, no pesticides. The soil between the rows and "under the rows" is ploughed several times a year. No chemical weeding. The grapes are hand-picked and put in 300 kg containers.
Vinification :
"Sandwich" fermentation: 1/3 of the volume of the vat destemmed by hand and 2/3 whole bunches. Gravity vatting with no addition of SO2. Inerting of vat using CO2.
Fermentation using indigenous yeast. During vatting, wetting of cap 2 to 3 times a week with no punching down.
Alcoholic and malolactic fermentation in vats with no inputs. During devatting, before fermentation is completed, blending of free-run wine and press wine.
Aging in bottles: 5 months.
Aging :
Completion of fermentation and aging in vats. Addition of 30 mg/L of SO2 before light filtration and bottling.
Bottling :
6 March 2017
Serving temperature :
Between 13°C and 15°C.
Tasting :
Ruby colour, hints of red fruits, ripe cherries, and undergrowth on the nose. Lively attack in the mouth, supple tannins revealing a good intensity.
Serving suggestions :
Terrines, Chilli, Osso buco, prime rib of beef, grilled meat.