Domaine de la Touraize - Vin de France
Natural Bubbly « Les Dix Bulles »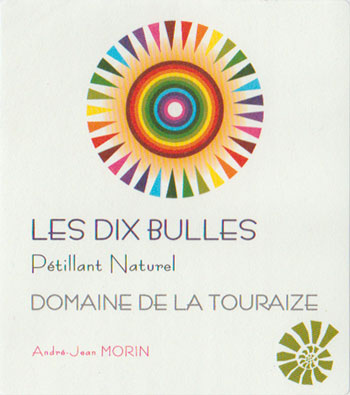 Grape variety :
Pinot 80% , trousseau 20%
Designation :
Vin de France
Harvest :
Manual in pierced 20 kg containers.
Yield :
55 hl / ha.
Farming method :
Winter and spring : Cane pruning (Guyot). Arch trained. Addition of organic matter at the end of winter. Spring and summer : Disbudding then tying-up. The vines are only treated with copper and sulphur, no pesticides. The soil between the rows and "under the rows" is ploughed several times a year. No chemical weeding. The grapes are hand-picked and put in 300 kg containers.
Vinification :
Pneumatic pressing of whole bunches. Cold gravity settling (+ 6°C). Spontaneous alcoholic fermentation achieved with indigenous yeast. Alcoholic fermentation started in vats with no inputs then bottled whilst still fermenting. The carbon dioxide released naturally during fermentation in bottles creates the fizz, hence the name "natural bubbly". The fermentation in the bottle stops after a few days as the yeast is deprived of oxygen so can no longer consume the remaining sugar. This vintage contains approximately 18 g/litre of residual sugar.
Aging :
Storage for a month "on a lath", then cold storage outside in winter to trigger the precipitation of the tartar in the bottle.
Riddling :
On a wooden rack for 1 month. Riddling by hand two times a day with rotation ¼. Tilting every 5 days.
Disgorgement :
March 2017. Without dosage, no addition of SO2. Corking or capping. Vintage available in bottles (75 cl) or magnums (150 cl).
Serving temperature :
Between 5°C and 8°C.
Tasting :
Pink colour, small red fruits on the nose, lively, fresh, and fruity on the palate, slightly sweet, fine bubbles.
Serving suggestions :
Aperitifs, fruit desserts and for any celebrations!