Domaine de la Touraize - ARBOIS AOP (Jura)
Trousseau « les corvées »
2017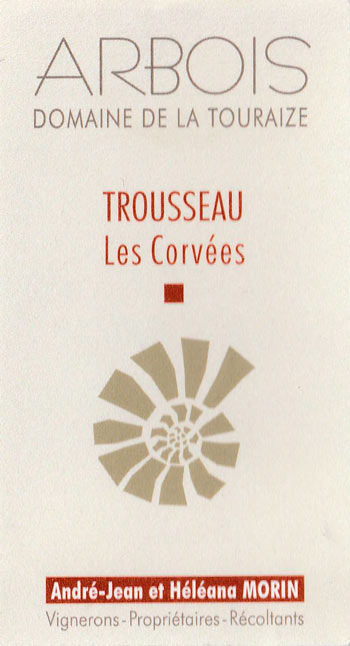 Grape variety :
Trousseau
Designation :
Arbois PDO
Terroir :
Gravel on marl.
Acreage :
1.95 ha – "les Corvées" plot selection - age of vines: from 20 to 45 years. Southwest facing hillside
Harvest :
Manual.
Yield :
30 to 40 hl/ha
Farming method :
Winter and spring : Cane pruning (Guyot). Arch trained. Addition of organic matter at the end of winter. Spring and summer : Disbudding then tying-up. The vines are only treated with copper and sulphur, no pesticides. The soil between the rows and "under the rows" is ploughed several times a year. No chemical weeding. The grapes are hand-picked and put in 300 kg containers.
Vinification :
Destemming and light crushing of harvest then gravity vatting with no addition of SO2. Inerting of vat using CO2. Cold pre-fermentation maceration (+ 5°C) for 2 days then fermentation on the skins for 30 days. Fermentation using indigenous yeast. During vatting, wetting of cap 2 to 3 times a week with no punching down. Alcoholic and malolactic fermentation in vats with no inputs. During devatting, blending of free-run wine and press wine.
Aging :
Half the blend is aged for 9 months in 600-litre wooden barrels called "demi-muids" and the other half in vats. Before bottling, blending of wines, addition of 20 ml/hl of SO2 and light filtration.
Bottling :
On the morning of 19/07/2017, "fruit day", clear day with no wind. Cork stopper 45/24 Ma Silva.
Serving temperature :
Between 13°C and 15°C.
Tasting :
On the nose, a small reduction disappears after airing, followed by spices and pepper mixed with hints of small red fruits.
Good attack on the palate with tannins present, already well matured. Aromatic richness. Length and balance on the finish. Subtle balance between aging in wooden barrels and aging in vats.
Serving suggestions :
Beef steak with pepper sauce, tuna steak, duck breast...