Domaine de la Touraize - AOP Macvin du Jura
Macvin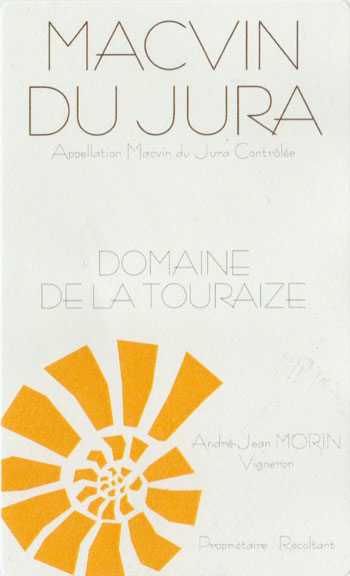 Juice :
2/3 Chardonnay and 1/3 savagnin
Designation :
Macvin du Jura PDO
Marc :
The estate's Marc-brandy aged 15 months in barrels.
Vintage :
A Macvin is never given a vintage as the marc and the juice have different vintages.
Harvest :
Manual
Preparation :
Pneumatic pressing of whole bunches of chardonnay and Savagnin. Static gravity settling (24h) then blending of clear juices with Marc-brandy. The alcohol added kills the yeast in the juice and thus prevents fermentation. The alcohol content of the Macvin obtained is approximately 16.5% PA.
Aging :
Twelve months in wooden barrels.
Bottling :
Filtration through cellulose plates (K200), 2400 bottles. Batch: L MAC BL. Cork stopper.
Serving temperature :
Between 8°C and 10°C.
Aging capacity :
15 years. Once "open", Macvin keeps very well for several months if chilled.
Tasting :
Hints of fine alcohol, melon, and walnuts on the nose.
Alcoholic but unaggressive attack on the palate, well matured, followed by the sweetness and the richness of the juice, hints of vanilla and walnut.
Serving suggestions :
Alone as an aperitif, with foie gras, or with melon and raw ham. In a cocktail with Crémant du Jura. For dessert with a tarte Tatin and a scoop of vanilla ice cream, walnut cake.