Domaine de la Touraize - AOP Macvin du Jura
Macvin Rouge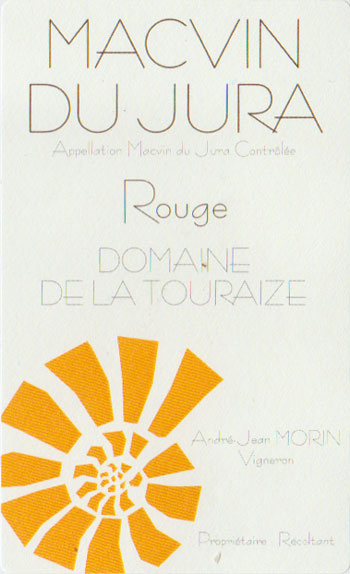 Juice :
Ploussard (or poulsard)
Designation :
Macvin du Jura PDO
Marc :
The estate's Marc-brandy aged 15 months in barrels.
Vintage :
A Macvin is never given a vintage as the marc and the juice have different vintages.
Harvest :
Harvested and destemmed by hand.
Preparation :
The whole grapes are put into vats. Addition of marc-brandy in the vat. Long maceration of whole grapes in the marc. The alcohol added kills the yeast present in the grapes, preventing fermentation, and infiltrates the grapes. After this maceration, the grapes are pressed and blended with the juice obtained and remaining marc in the vat. The alcohol content of the Macvin obtained is approximately 16.5% PA.
Aging :
Twelve months in wooden barrels.
Bottling :
After filtration on cellulose plates (K200), 800 bottles. Batch: L MAC R. Cork stopper.
Serving temperature :
Between 8°C and 10°C.
Aging capacity :
15 years. Once "open", the Macvin keeps very well for several months if chilled.
Tasting :
Hints of fine alcohol and cherry stones on the nose.
Alcoholic but unaggressive attack on the palate, well matured, the natural sweetness then gives a feeling of "meaty cherry flesh".
Serving suggestions :
For dessert with a chocolate fondant, a black forest gateau, ice cream, or red fruit parfait.