Domaine de la Touraize - ARBOIS AOP (Jura)
"Les Moulins"
2016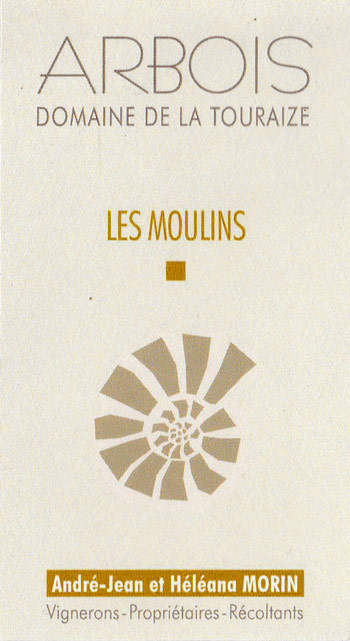 Grape variety :
2/3 Chardonnay ; 1/3 savagnin.
Designation :
Arbois PDO
Terroir :
Rich gravel on marl. Southwest facing hillside. Altitude: 350m.
Surface area :
0.75 ha. Named-place "Petit Curoulet" - age of the vines: 20 to 60 years.
Harvest :
Manual.
Yield :
40 hl / ha.
Farming method :
Winter and spring : "Guyot" pruning. Arch trained. Addition of organic matter at the end of winter. Spring and summer : Disbudding then tying-up. The vines are only treated with copper and sulphur, no pesticides. The soil between the rows and "under the rows" is ploughed several times a year. No chemical weeding. The grapes are hand-picked and put in 300 kg containers.
Vinification :
Pneumatic pressing of whole bunches. Static gravity settling. After pressing, blending of Chardonnay and Savagnin juice (2/3-1/3) for fermentation together. Spontaneous alcoholic fermentation achieved with indigenous yeast. Alcoholic fermentation, malolactic fermentation, and aging in 500-litre barrels.
Aging :
12 months on fine lees in 500-litre barrels. Topping up weekly throughout aging. Floral blend.
Bottling :
After light plate filtration (K 200) on the morning of 19/07/2017, "fruit day", clear day with no wind. Cork stopper 45/24 Ma Silva.
Serving temperature :
Between 10°C and 13°C.
Tasting :
Fresh, citron on the nose. Lively and fresh on the palate, subtle pairing between the buttery hints of the Chardonnay and those of the Savagnin, with overtones of exotic fruits and spices.
Serving suggestions :
Grilled fish, smoked eel, crayfish, vegetable terrines.