Domaine de la Touraize - ARBOIS AOP (Jura)
Vin Jaune 2011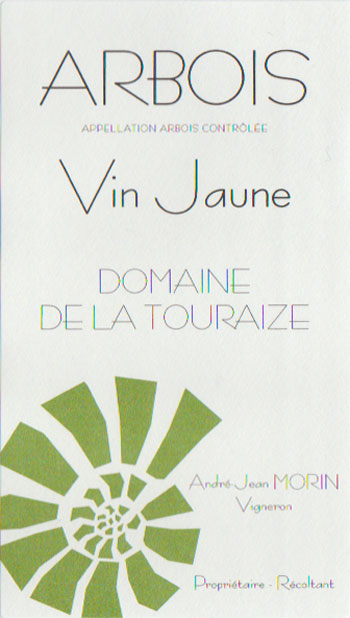 Grape variety :
Savagnin
Designation :
Arbois PDO
Terroir :
Blue marl. Named-place: "Petit Curoulet". Exposure: Northwest. Altitude: 300 m.
Acreage :
1 ha. Age of the vines: between 10 and 30 years.
Harvest :
Manual.
Yield :
38 hl/ha
Farming method :
Winter and spring : Cane pruning (Guyot). Arch trained. Addition of organic matter at the end of winter. Spring and summer : Disbudding then tying-up. The vines are only treated with copper and sulphur, no pesticides. The soil between the rows and "under the rows" is ploughed several times a year. No chemical weeding. The grapes are hand-picked and put in 300 kg containers.
Vinification :
Pneumatic pressing of whole bunches. Static gravity settling. Spontaneous alcoholic fermentation achieved with indigenous yeast. Alcoholic fermentation, malolactic fermentation, and aging in stainless steel vats.
Aging :
Aging for 70 months in 228-litre barrels in an unconditioned room (attic) with no topping up to promote the development of a "flor" on the surface of the wine. This is called aging "under flor". The "flor" protects the wine from abrupt oxidation and the yeast in this flor regenerates naturally. During this slow process, the yeast dies, breaks down, and thus participates in the unique olfactory and sensory complexity and diversity of Vin Jaune.
Bottling :
Gravity bottling with no filtration in 62 cl "clavelin" bottles. Cork stopper 45/24 Ma Silva.
Serving temperature :
Between 14°C and 16°C.
Tasting :
Complex aromas of dry fruit, walnuts, hazelnuts, and spices on the nose. A powerful attack on the palate, rich, full-bodied, and unctuous with an extraordinary aromatic persistence.
Serving suggestions :
White meat and fish in cream and Vin Jaune sauce, mushrooms on toast, dishes with curry and ginger, Franche-Comté cheese platter, walnut desserts.